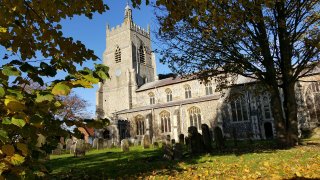 A welcoming parish church at the heart of the community.
"In a short space of time we have felt that we belong and it now seems that ASM is where we should be."
All Saints' Church in Mattishall (ASM) is a community of people living in and around Mattishall near Dereham in Norfolk. We meet up on Sundays and at times during the week (in various people's homes) to worship God and learn together. We would love you to join us, whether as a one-off or more often.
We are a welcoming, supportive and accepting bunch (at least that is what others have told us) as we try to reflect the loving and forgiving nature of God.  With our Sunday services we aim to make people feel at ease with the options of a more traditional service at 9 a.m. (with organ) and a more informal service at 10.30 a.m. (with worship group).
We are a church which takes the bible seriously, trying to allow God to challenge, encourage and change us through it. Our aim is to understand and accept the love of God the Father as shown by Jesus Christ and to be open to the leading of the Holy Spirit.
Hope to see you soon!
If you wish to return directly to the Mattishall page in future, you can type http://mattishall.matvchurch.uk into your webbrowser.