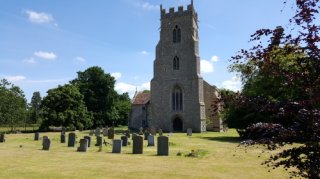 Welcome to St. Mary's Church, North Tuddenham
Welcome. For service details and other events happening here, please see pages elsewhere on the website. With the Covid-19 situation changing regularly, please check in the News section.
Unfortunately the deterioration  of the structure of St Mary's Church Tower, particularly the two buttresses, has meant we have had to put up fencing and warning signs around the west end of the church near the entrance.
The robust fencing is to keep people away from the tower because we have be warned that the possibility of collapse is very real.
We do realise that people may want to tend to the graves of their loved ones at this time of year,  but please be very careful.
We are unable to facilitate visitors to the church at this present time.
We pray that our efforts to secure the required finances to restore the tower will be successful and that work can be started in 2021.'
North Tuddenham PCC