R & R project in ASM
Posted: Thu, 15 Jul, 2021 (2 weeks ago) - by Alan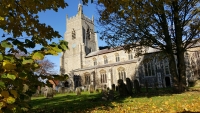 A major project is getting under way at All Saints, Mattishall, to provide for a new servery, a new toilet, conversion of the tower room into a proper room and a significant amount of extra storage space. Here is a link to the videos used at that service on 11th July 2021.

Please note that these online videos do not have the additional directions (Alan pointing at things with the mouse pointer) which were available on screen when shown live at ASM, but they are still clear.
https://www.youtube.com/watch?v=13bhFMObGTw&list=PLGVUwLQtb4TteDq-WdypQhH_pQqc8AU1W
A diagram showing the proposed new layout is downloadable from HERE. Note there is one small error in the diagram, i.e. we do not plan to have a worktop over the radiator in the north-west corner. Apart from that, the diagram is accurate.

15th July 2021 addition: Two (similar) views of how the new servery (not a kitchen!) is intended to look are now available at HERE and HERE.
Back to top of page