Services Sunday 20th September
Posted: Sat, 19 Sep, 2020 (10 hours ago) - by Andrea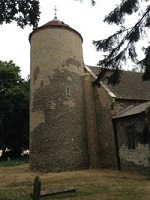 Dear Friends,
This Sunday you have a choice to attend any of 3 acts of Worship during the morning
9am All Saints, Welborne
10am  Zoom (Meeting ID83401400096, password 858873 or click here)
10.30am  St Peter's, Yaxham.
There is also an informal service late afternoon
5pm All Saints, Mattishall.
If you are intending to attend any of the physical services  please wear a mask and check with the church wardens or myself for available spaces as numbers are limited.
We look forward to welcoming you at whichever act of worship you choose to attend.
With every Blessing  
Andrea
Back to top of page