ASM Communcates - Sept 2018
Posted: Mon, 17 Sep, 2018 (4 days ago) - by Jackie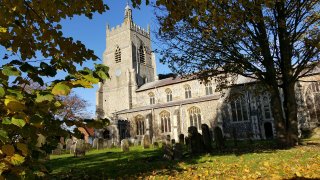 ASM COMMUNICATES ….
September 2018
Heating
During the amazingly hot summer this year, the characteristic coolness of this ancient building was actually a blessing but as Autumn creeps in, our thoughts turn again to how chilly we might feel when we come into church! Well, our Boiler Team (Sue, Barbara, Ken & Steve) have been thinking about little else!  Here is an update from the team:
"We are finally seeing some progress!   The PCC met recently and it has been agreed to pursue one of the quotes received to install a new oil boiler, outside tank, convert two existing radiators and upgrade some pipework.  This will enable us to achieve an acceptable level of heat in the cold weather.  (18C degrees inside when outside temp at -1C degrees).
A Faculty Application has been submitted and we are awaiting the Diocesan Advisory Committee's decision at their meeting on 20th Sept.  If the DAC gives approval there will then follow a consultation period (28 days) after which full approval can be granted.   Once this has happened we will be in a position to order materials and arrange a date for work to commence.  Please pray for approval as everything hinges on this for us to be able to proceed with the work. 
The work itself is likely to take approximately 3 weeks to complete.  This may cause some disruption to regular and one-off events between now and Christmas but we will do our utmost to keep disruption to a minimum."
If you would like any more information, please speak to one of the team. They have worked so hard to get the project to this point and I would just like to say a huge thank you to them for all they have done.
We will keep you all updated as things happen.
As always, cost has been central to all of the discussions. We will share the detail once it is fully known We believe that, thanks to the money already generously donated by the church family to the boiler fund and the special projects fund which has been held in reserve for this time, the shortfall will be in the region of £10,000. However, once again ASM has been amazingly blessed….
Cynthia Wake Legacy:  On her passing earlier this year, Cynthia continued to bless the church massively by leaving a legacy to ASM of £20,000. It has been proposed that up to 50% of this should be put towards the boiler installation. Whilst Cynthia was never one to put her creature comforts first, we believe she would approve of  the  plan to finally make the church useable and comfortable throughout the year for outreach activities such as Little Angels. She was also very aware of how cold those of us of advancing years find it on a Sunday morning in mid-winter! The other 50% of the legacy will be held in a fund in her name to be spent on other projects, under the control of the PCC. However, first and foremost, we believe this should cover the shortfall on the boiler project and we are so very thankful for that.
We will be talking more about finances over the next few weeks, as our committed outgoings continue to exceed our income.
Prayer….
In July , we focussed on prayer with an emphasis on the value and compulsion for us to come together as a church to pray. We distributed a little survey to look at how we would be most willing and able to commit to this, so that it becomes 'habit' for us in the best possible way.
We had around 25 completed forms and we are very grateful to those of you who took the time to respond. The trends were fairly clear and the preferred options by some way were for a Sunday evening once a month and a Saturday morning, with light breakfast, again once a month. We are keen not to compromise the ladies & men's breakfasts which are already established, so will be ensuring those can still continue. Please watch this space as we will be sharing details very soon, with a view to starting next month.
We have so much to be thankful for and so much still to do but it is essential that we listen to God to hear how He wants us to proceed so this will be central to our prayer time together.
Autumn activities
Between now and Christmas Day, we have no fewer than nine events which give the opportunity for reaching out into the community:
Friday 5th October - Harvest Supper
Sunday 7th October - Harvest Service 10am with bacon butties! As last year, invites will be sent to all organisations and businesses in the village.
Wednesday 31st October  5pm - Bright Party
Sunday 11th November - Remembrance Service
Saturday 24th November  - Christmas Fayre
Sunday 25th November - Memorial Service
Sunday 2nd December - Christmas Activities afternoon (before the Village Green tree-lighting)
Sunday 23rd December 6pm - Village Carol Service by candlelight
Monday 24th December 4pm - Christingle
11.10pm - Midnight Communion
Alongside, Little Angels and Drop-In continue to  run weekly, building relationships and serving in an amazing way.
Many opportunities to serve and extend a hand of friendship, showing the love of Jesus in the way we welcome and care. And lots of baking (and eating!) opportunities too! Please put the dates in your diaries and let the office know which ones you would like to be involved in, by baking a cake, in the arrangements and/or at the event. Many hands make light work and the blessing comes from the serving.
Thank you for all you do and all you are in this church.
With every blessing
Jackie
Back to top of page