Thought for the month(s) - July and August 2019
Posted: Thu, 4 Jul, 2019 (1 month ago) by Mark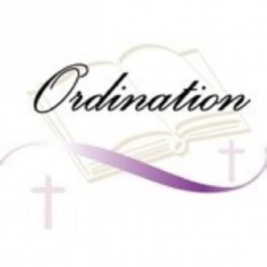 "They chose Stephen, a man full of faith and of the Holy Spirit also Philip… ...who was presented to the apostles, who prayed and laid their hands on them." (Acts 6:5-6).
 Throughout the bible there is the principle that God calls particular men and women for particular roles, that they are set apart for that role and that there is the release of the Holy Spirit to empower them in the role. In the Old Testament we see this many times—for example, David, called by God to be King or Elisha as prophet and then in the New Testament, the appointment of leaders for the church.
So in Acts 6 we see this with the first Deacons. They are set aside to physically wait on tables in order that fairness is observed in the distribution of food. They are called, set apart for the role and receive the gift of the Holy Spirit through prayer and the laying on of hands. Although this role as those who wait on tables is where we get the word deacon from, they are quickly shown to be more important than that, as Stephen is martyred after witnessing to Jesus and Philip goes on to bring an Ethiopian to faith and so found the Ethiopian church.
I write these words just before Andrea's ordination as Deacon on June 29th. This service also follows this threefold pattern—it will recognise her call from God to serve him, that she is being set apart for this new role and she will be prayed for and receive the laying on of hands. As a symbolic mark of this new role she will put her dog-collar on for the first time on Saturday morning, and will receive a white stole at the service.
As a Deacon Andrea will be able to lead and preach at services, lead funerals, lead projects in the parishes and do other things as directed by me.
Then next year she will be ordained priest (or presbyter or elder) as a sign that she is ready for further responsibilities and leadership. But as a recognition that Christian leadership is "as one who serves" and following the example of the servant King, she will remain a deacon, as do I, Sally, and all other priests and bishops in the Church of England. We may be called into leadership, but we are also called to serve.
Over the next three to four years, while with us here in Mattishall and Tudd Valley, Andrea will be discovering more of this call of God upon her life and why He has called her into ordained ministry. She will gain skills that she will need for the future and will have opportunity to grow into the person God is calling her to be as an ordained minister of the Church of England.
This training is a kind of apprenticeship, which is why we have such an amazing privilege in all this. God has chosen Andrea, but he has also chosen us all, as the members of this benefice, to help Andrea discover more of what God has planned for her. It is not an academic training (she has already completed that) but practical training in the very warp and weft of parish life.
So please continue to uphold Andrea, Tim and us all in prayer as we discover what all this means for her, for them and for us.
Mark McCaghrey
Back to top of page