Morning Prayer for Christmas and Epiphany Season
Posted: Tue, 22 Dec, 2020 (2 months ago) - by Andrea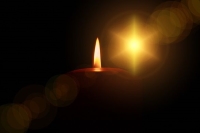 Dear Friends,
A very Happy Christmas to you all.
What ever your circumstances this year may you know God's presence as you celebrate the birth of Our Lord Jesus Christ, the truth of the Word made flesh for our salvation.
HERE is the liturgy and readings for Morning Prayer. The Clergy will be taking some rest after Christmas and therefore will not be leading morning prayer again until Mon Jan 3rd 2021, however everything you need is in the booklet and  if you wish to meet up with others at 9am Mon -Sat  to pray together over Zoom the  ID and passcode will still work.
Zoom Christingle Service-Christmas Eve 4pm.  This is not just for Children, and as is the case  for all our services if you would like to join us you are welcome ID 890 7383 6690  passcode 24122020
I'm looking forward to seeing 'the light of the world throughout the  benefice shining in the darkness' through my computer screen.
There is still time to get your Posada or nativity scene pictures in.   
Looking forward to seeing you at one of the Benefice services in a building or on Zoom over Christmas.
With every blessing
Andrea
Back to top of page