Thank you from Mid Norfolk Foodbank
Posted: Thu, 28 Nov, 2019 (4 months ago) - by Liz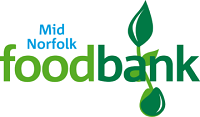 Since this time last year the need for food boxes being given out increased by 50%. This is due to the benefit changes, benefit delays and the number of people on low incomes who can no longer manage financially, because of universal credit.
As you can see the need for food, unfortunately in these times, is desperately important to so many local people.
We still have a particular need for biscuits, tins of rice pudding, tinned potatoes and packets of mashed potato.
Mid Norfolk Foodbank would like to thank all those in the Benefice who donate the much needed food throughout the year and at Harvest and Christmas time. We are so thankful for all that is given and your kindness.
Liz Chappell
Back to top of page