An update on the extensive work being done on St. Mary's Tower, North Tuddenham
Posted: Sat, 29 Jan, 2022 (4 months ago) - by Alan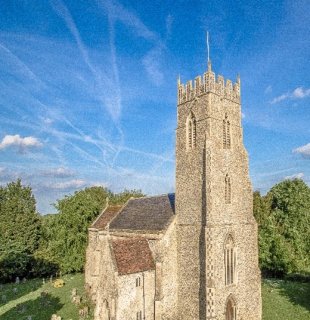 Update on St Mary's Church - January 2022
Firstly, I would like to thank the 60+ people who came to the special Carol Service in December despite the ongoing repairs to the tower and the impact of the Omicron variant of Covid-19 on society. Secondly, I applaud the enthusiastic cleaning team who transformed a sad-looking nave into a welcoming place again.  Feedback from attendees, including some who had never been in the before, was very positive. "Great to be back in St Mary's!", I heard.
As you may remember work began on the tower in March 2021 and at once the precarious state of the structure meant that the contractors had to revise their work processes to avoid an imminent collapse. "One of the worst examples of dangerous towers I've ever seen in decades of restoration work!", are the words of the contractor that I will not forget.
Over the next few months, the scaffolding groundwork was prepared, and the contractors began replacing the mortar of the buttresses and strengthening them. The treasured west window with medieval stained glass was carefully removed and awaits conservation funding.
Over the months despite inclement weather in May, lack of scaffolding and the ongoing pandemic, scaffolders reached the top of the tower and work was then possible on different levels. As the repair work went higher up the walls it was evident that the tower structure was still moving. Additional ties were fixed across the tower, and it is now stabilised.
Work on the external walls, buttresses, windows and parapets is nearly complete, and the internal staircase to the belfry is now usable again. A final check by the architect, structural engineer, contractor and the main sponsor, Historic England, is planned for early February, and if all is approved, then removal of scaffolding will begin.
Then the final pieces of the project will start - piling the foundations, securing the buttresses to the piling rods, and improving site drainage.
I am hoping that the whole project will be complete by Easter 2022, but restoration work can always throw up the unexpected.
St. Mary's will soon sit proudly in North Tuddenham again!
Mike Smith - Fabric Officer
Back to top of page