Diocesan Digital Advent Calendar 2022
Posted: Wed, 23 Nov, 2022 (6 days ago) by Alan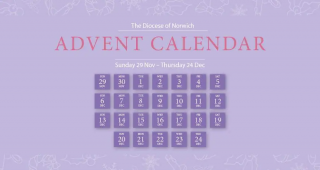 Diocesan Digital Advent Calendar 2022
Transformed by Christ: Prayerful, Pastoral, Prophetic
This coming Advent Sunday (27th November), we move into the second year of our Diocesan Vision and so the second of our three 'P' words – Pastoral – becomes our focus.
To tie in with this, 2022's diocesan digital (but downloadable) Advent Calendar explores pastoral care, each 'window' celebrating a different way of reaching out in loving concern. Contributors have been drawn from all over the diocese and showcase a wide range of ways of responding to many sorts of need… Running a school uniform bank, hosting refugees, visiting the lonely, and offering warm spaces to those who can't afford to heat their homes are just a few of the 28 different examples of pastoral care which come under the spotlight... 
It's easy to subscribe at http://dofn.org/advent and then, every morning of Advent, each new calendar entry will ping into your email inbox. We hope this year's calendar will provide a rich and inspiring way of setting out together on our journey into deepening the pastoral life of this diocese. Please encourage everyone in your faith community (and perhaps those on its fringes too?) to subscribe.
Susanna Gunner
Diocesan Adviser in Spirituality and Discipleship
Back to top of page