Other Items

This area is for benefice-related items which are not specific to any particular location.
1 month to go
Coming Up Next...
Family Fun Afternoon
Sun, 18 Aug, 2019, 8am @ Norwich Cathedral
Between the 8th and 18th August there will be a 50ft high Helter Skelter in the Nave of the Cathedral as part of the "Seeing it Differently" project. Climbing the Helter Skelter will give people the opportunity to Family Fun Afternoon at the Cathedral Sunday 18th August
Get very close to the Bosses in the Cathedral Vaulted Ceiling which tell the stories of the Old and New Testament. It is hoped that thousands of people will come to enjoy this experience together with related activities in other parts of the Cathedral and Cloisters which will tell them more about the Christian Faith.
On Sunday 18th from 4.30pm onwards people from parishes are invited to bring a picnic and enjoy riding the Helter Skelter and other games in the Cloisters. At 6.30pm the Bishop of Lynn will be leading a special service which will take place in the nave around the Helter Skelter. Please come and bring lots of friends and neighbours with you – people of all ages are very welcome!
Pictured shown is an artist's impression of Seeing it Differently.
Picture: Annette Hudson/Paul Hurst/Irvin Leisure
More events across the villages »
Latest News/Feature...
New Bishop of Norwich announced
Posted: Fri, 3 May, 2019 (2 months ago) by Alan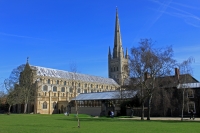 The new Bishop of Norwich has been announced. Please see https://www.dioceseofnorwich.org/article?id=4120 for details.
More Recent News & Features

Drop In Coffee Morning (6 months ago)
More news & features for Other Items »
More news & features across the villages »
Dashboard
Email Updates
Always be the first to know. Tailor your email update to suit your preferences. You can set it to check for updates to the site at a frequency that suits you. You will only be mailed when there is new content.
Sign up / Sign in »
Get in touch
Comments? Good or bad experiences of the site?
Phone: 01362 858873
Email:
Online contact form »