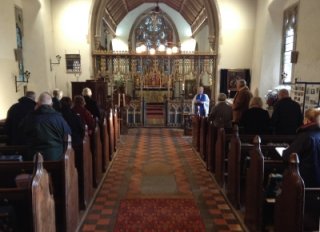 Welcome to All Saints' Church at Welborne
We meet each Sunday in our beautiful mediaeval bulding, which is warm and welcoming. We care very much for each other and the world around us. At Welborne we are part of one big inclusive church family for prayer and praise. We know God is with us and it is particularly clear when we walk into our building.
Our church family is there for all and if you have never joined us before, you will notice the peace and tranquility as soon as you walk in through the door.
We would love to welcome you to one of our services which are held on the first, second, third and fourth Sundays of each month. On the fifth Sunday, we join with the rest of the benefice congregations for a United Benefice service at different places each time around the benefice. Please note that our service on the fourth Sunday is usually later in the morning than for the first three Sundays of the month.
The church building is open every day from 1st April to 31st October, 10am to 4pm. Outside of these times, please contact the churchwarden, Susan Cross.