Monthly women's breakfast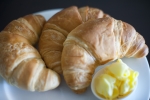 We have a monthly women's breakfast at the home of Patricial Menual's house in Mattishall. It starts at 8.30 a.m on the 1st Saturday of each month with a continental breakfast followed by prayer together, finishing around 9.30. Please see the details under Events where you can find contact details.
However, please note that while restrictions on physically meeting together are in place during this pandemic, we are not meeting together physically.