Fortnightly men's groups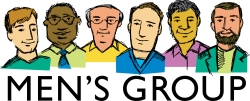 We normally have a couple of men's home groups, which meet fortnightly (aiming to still allow us to also be part of "normal" home groups). One meets on Mondays and the other on Tuesdays. For more details, please contact Alan Cossey or Bruce Smith.
However, while the Covid-19 pandemic is still happening we are meeting on Zoom fortnightly on Monday evenings at 19.30. Please contact Alan for details, including connection details if you would like to try us out.