Parker Sermon
3 hours ago
Sun, 26 May, 2019, 6pm @ Mattishall, All Saints.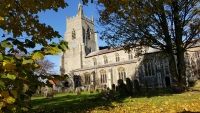 Rev. Alice Goodman, who has been rector of Fulbourn, Great Wilbraham and Little Wilbraham near Cambridge since 2011 and will be speaking on Matthew 28:1-10, 16-end and says that she, "hopes it will be an encouraging sort of sermon!"

Do join us if you can.
Back to top of page
Contact Alan for more details - 01362 857904