Spring Harvest Local
4 days to go
Tue, 24 Sep, 2019, 7:30pm @ Sprowston Methodist Church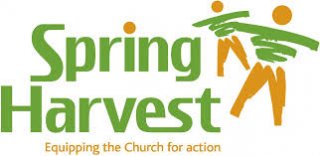 Fiona, the family and I will be going again to the Spring Harvest Christian festival at the Harrogate Conference Centre from the 14th to the 18th April 2020. We had a great time two years ago, with inspiring teaching, great worship and the opportunity to have afternoon tea at Betty's Tea Rooms. Over the years we have been to Spring Harvest and other similar events to be refreshed and renewed in our Christian faith and are looking forward to going next year. You can find out more at www.springharvest.org/harrogate.
Because we are previous attenders, we received a special low cost of £99 per adult (children are less), an offer which is still open until the end of September if we take others with us, although you will need to book accommodation separately.
If you are unsure whether this is for you, then Spring Harvest is coming to Norwich for one night only on 24th September 7:30pm at Sprowston Methodist Church, where you can have a taster of what is in store for 2020. The worship leader is Pete James, who led the worship at Harrogate two years ago and he was amazing. The cost is £8 pp or £6 pp for concessions. We can't book these tickets for you, so you will need to go to www.springharvest.org/local. If you don't have a computer then we can help at the office.
Please talk to Fiona or me if you would like to know more.
Mark
Back to top of page